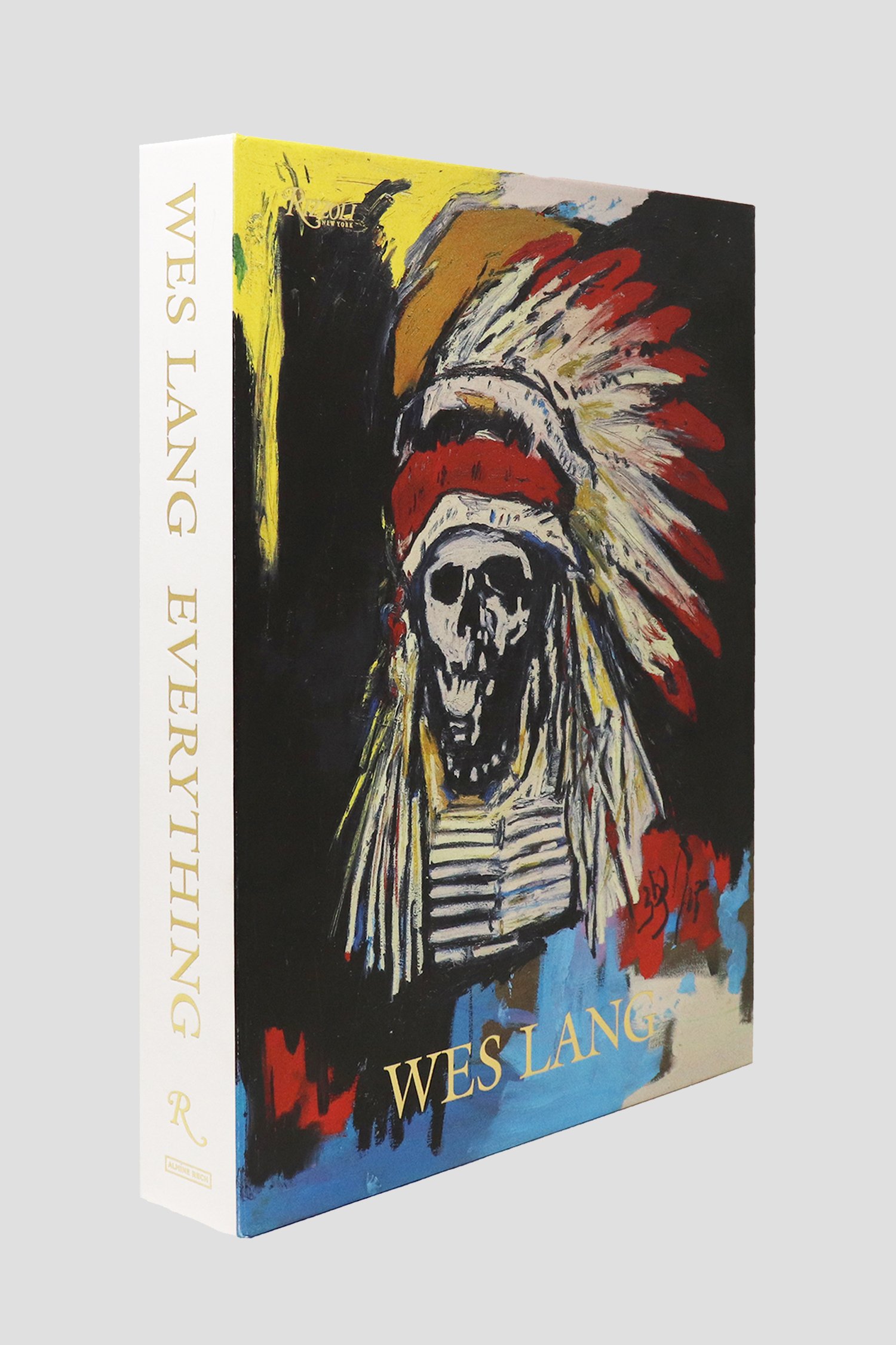 €
450.00 -
€
475.00
Sold out
Wes Lang - Everything (Special Edition)
*AVAILABILITY*
Copies soon available at Almine Rech New York - to check availability in-store, please get in touch directly with the New York gallery: contact.newyork@alminerech.com / +1 (212) 804 8496
_____
Wes Lang
Everything (Special Edition)
2021
Essay by Arty Nelson
Clamshell: 37.5 x 27.5 cm - 14 3/4 x 10 7/8 in
Print: 20 x 28.5 cm - 7 7/8 x 11 1/4 in
256 pages / English
Hardcover clamshell, archival pigment print
Edition of 150
Rizzoli / Almine Rech Editions
Almine Rech Editions is thrilled to present the special edition 'Everything' by Wes Lang, in conjunction with the artist's new catalog published by Rizzoli. Each special edition book is housed in a clamshell, along with Wes Lang's print 'Moon And Stars', 2021 - an edition of 150, signed and numbered by the artist.
Introduced with an exploratory essay by the critic Arty Nelson, the book draws on more than 25 years' worth of material, from stark paintings on wood from the artist's first exhibition to richly layered oil paintings exhibited at Almine Rech Paris in 2020, from unpublished pencil drawings to imagery made iconic by his enigmatic commercial collaborations. Oversized and with pull-out gatefold pages, the book is testament to the scope and richness of Lang's work: expansive in its iconography, deceptively intimate in its detail, and juxtaposing a textured, painterly style with a playful acceptance of the diversity of his own influences.
The special edition clamshell includes a signed and numbered print by Wes Lang, with a numbered catalog.
____
/ Shipping end of October, 2021
Print may vary slightly from image.
Select applicable taxes option | shipping costs calculated at checkout.
*Taxes - European Union
Price including VAT - EU customers are subject to Belgian VAT.
*Non European Union
For customers outside the EU, local taxes and duty fees may apply and are at your expense. Please get in touch with your local customs office for more information.
Shipping, customs duties and taxes are at the buyer's expense.
For additional information please get in touch via e-mail to theshop@alminrech.com