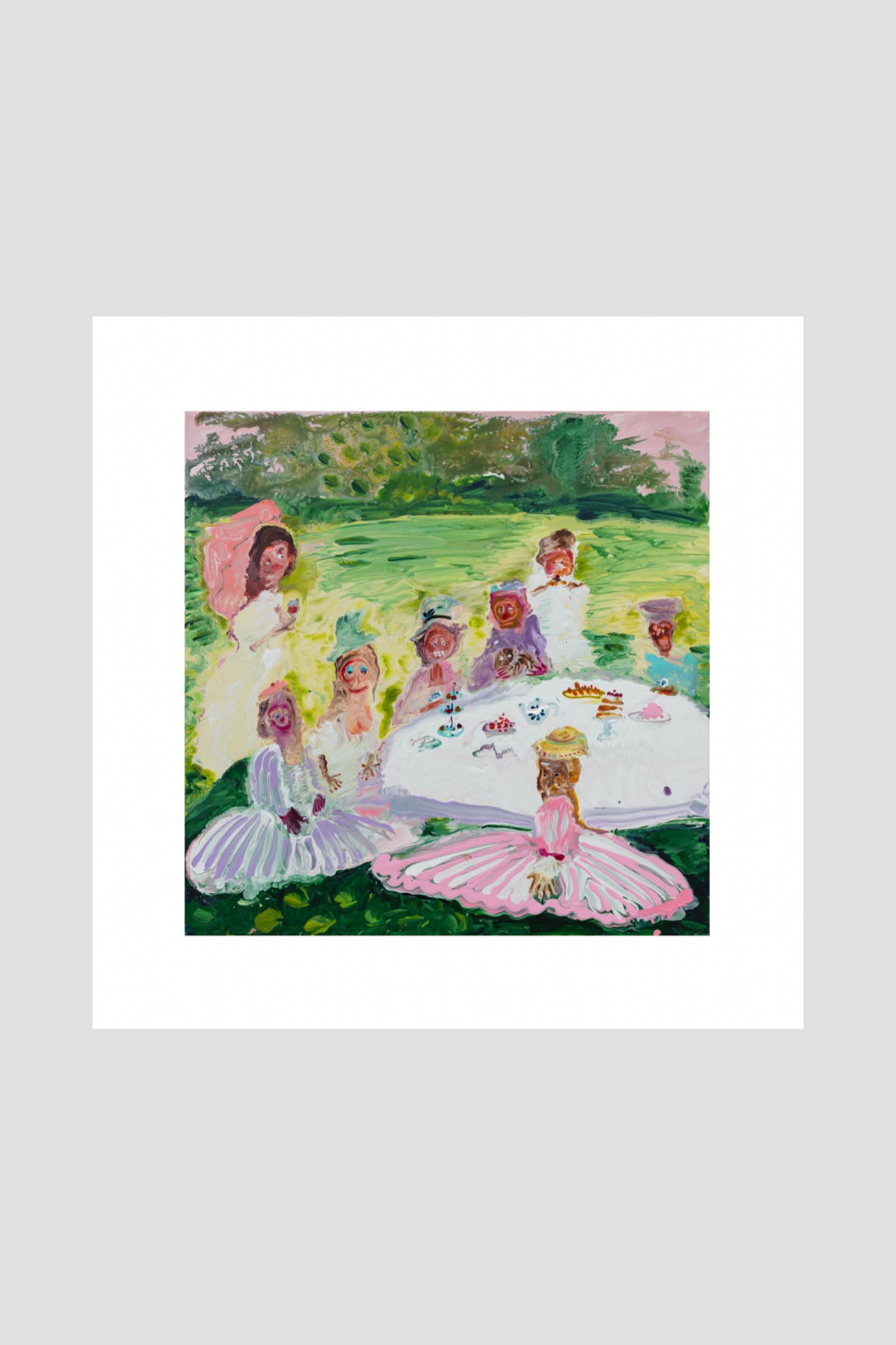 €
700.00 -
€
847.00
Sold out
Pre-Order / Genieve Figgis - Picnic
Genieve Figgis
Picnic
2022
Archival pigment print on cotton paper
30 x 30 cm
12 x 12 in
Edition of 30 + 5 APs
Signed and numbered on the front
Almine Rech Editions is pleased to present 'Picnic', a limited edition print collaboration with artist Genieve Figgis released on the occasion of the Almine Rech's Newsletter's 30th anniversary.
Genieve Figgis' paintings share a similar dramatic bent as some Irish-English literature subjects from Edgar Allan Poe to Oscar Wilde, as well as acknowledged old masters such like Goya. Working in oil and acrylic and a small to mid-scale, Genieve Figgis produces paintings rich in color, texture, humor, and the macabre. Through her work, she explores and overturns the idealization of luxury and leisure in paintings and photographs throughout art history. Like these historical works, her paintings feature sumptuous domestic interiors and stately country homes, idyllic natural settings, and protagonists dressed in finery and engaged in such activities as feasting, horseback riding, playing piano, or attending a party.
____
Estimated delivery date / June 2022
Maximum 1 print per pre-order
Multiple orders will automatically be refunded
Print may vary slightly from image
Buyer agrees to sign full Terms & Conditions
- Terms & Conditions
The buyer agrees that he will not sell, convey, transfer, lease, lend or otherwise dispose of the artwork, during a period of 24 months starting from the date of purchase.
Check our full T&C page or contact theshop@alminerech.com for additional information.
Select applicable taxes option | shipping costs calculated at checkout.
*Taxes - European Union
Price including VAT - EU customers are subject to Belgian VAT.
*Non European Union
For customers outside the EU, local taxes and duty fees may apply and are at your expense. Please get in touch with your local customs office for more information.
Shipping, customs duties and taxes are at the buyer's expense. From the time the artwork leaves the premises of the gallery, the buyer is liable for insurance of the work and third-party individuals. Shipping flat, including cardboard portfolio.