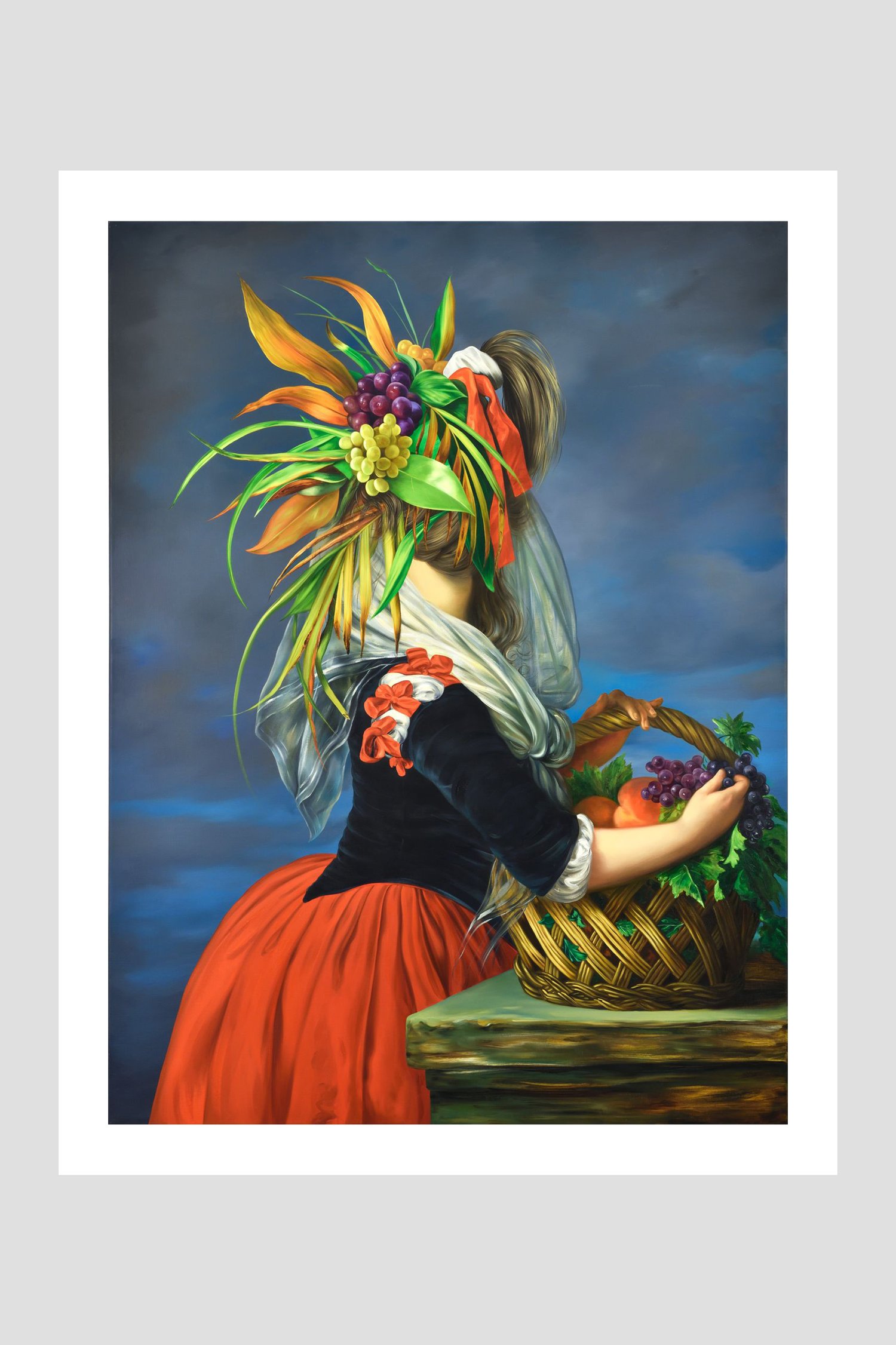 Ewa Juszkiewicz - Untitled (after Élisabeth Vigée Le Brun)
Ewa Juszkiewicz
Untitled (after Élisabeth Vigée Le Brun)
2020
Archival pigment print on cotton paper
90 x 69.5 cm - 35 3/8 x 27 3/8 inches
Edition of 75 + 5 AP
Signed and numbered on the front
Almine Rech Editions is pleased to present the limited edition print 'Untitled (after Élisabeth Vigée Le Brun)' by Ewa Juszkiewicz, our first limited edition collaboration with the artist.
Through her work, Ewa Juszkiewicz challenges visual conventions and confronts stereotypical perceptions of women's beauty in classical European painting. By deconstructing and reinterpreting the female subject in historical artworks, Juszkiewicz undermines their constant, indisputable character. One of the most celebrated contemporary Polish painters of today, Juszkiewicz challenges the viewers' perception by experimenting with the form of the female figure and face, balancing human and inhuman elements within her work to reveal a style that is at once classical in technique, yet subversive and rebellious in content.
____
Buyer agrees to sign full Terms & Conditions
Print may vary slightly from image.
- Terms & Conditions
The buyer agrees that he will not sell, convey, transfer, lease, lend or otherwise dispose of the artwork, during a period of 24 months starting from the date of purchase.
Check our full T&C page or contact theshop@alminerech.com for additional information.
Select applicable taxes option | shipping costs calculated at checkout.
*Taxes - European Union & UK
Price including VAT - EU & UK customers are subject to Belgian VAT.
*Non European Union
For customers outside the EU, local taxes and duty fees may apply and are at your expense. Please get in touch with your local customs office for more information.
Shipping, customs duties and taxes are at the buyer's expense. From the time the artwork leaves the premises of the gallery, the buyer is liable for insurance of the work and third-party individuals. Shipping flat, including cardboard portfolio.
Follow @alminerecheditions and tag us on Instagram to receive a gift on your next purchase!