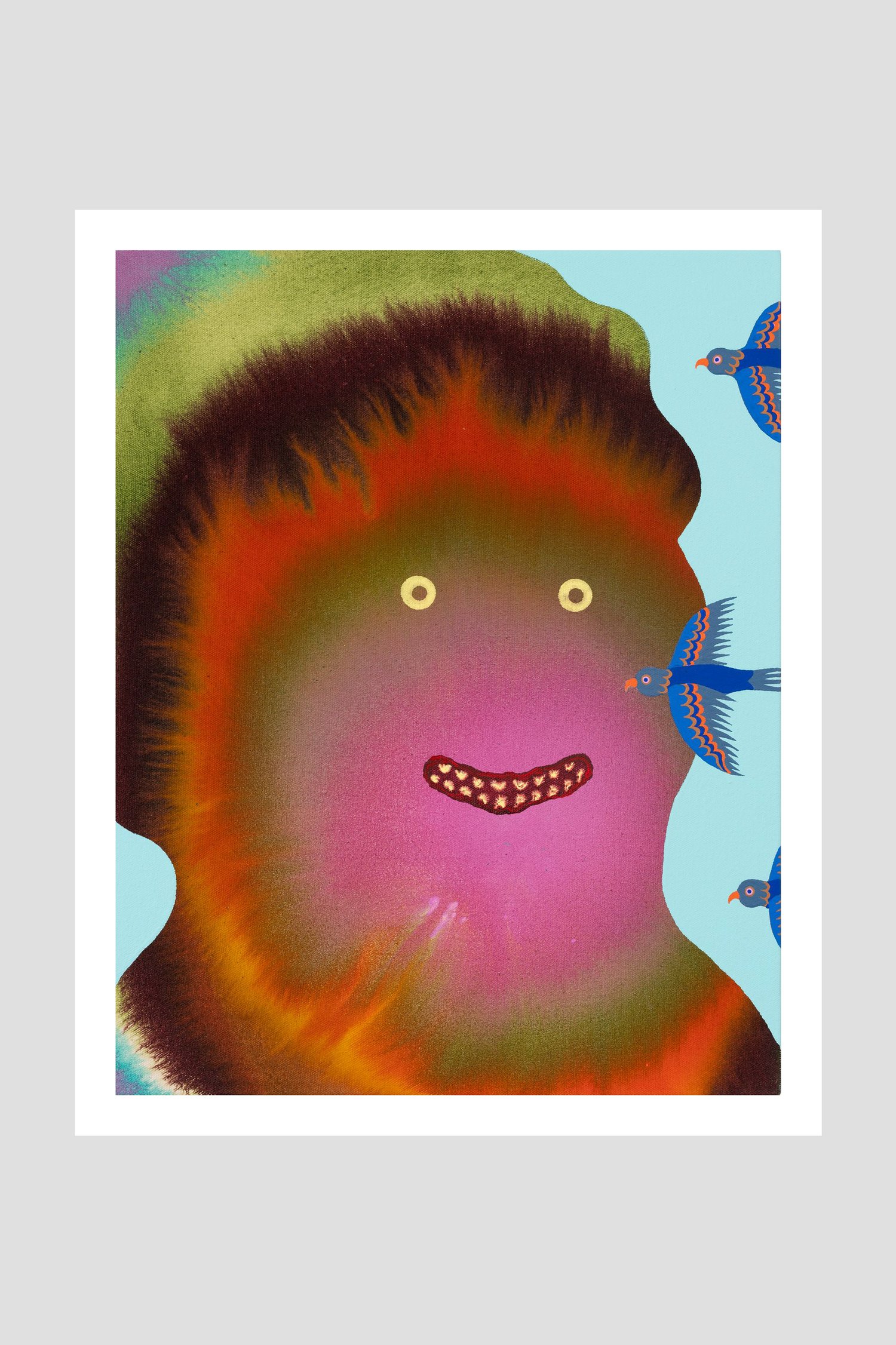 Aaron Johnson - Bluebird Bluebird Bluebird Joy Joy Joy
Aaron Johnson
Bluebird Bluebird Bluebird Joy Joy Joy
2021
Archival pigment print on cotton paper
90 x 73 cm - 35 3/8 x 28 3/4 inches
Edition of 40 + 10 APs
Signed and numbered on the front
Almine Rech Editions is pleased to present three limited edition prints by Aaron Johnson, the first limited edition collaboration with the artist.
Allegory, the grotesque, humor and esotericism animate the paintings of New York-based artist Aaron Johnson, whose new body of work oscillates between genre painting, portraiture and landscape painting.
The luminous, fluid and heterogeneous nature of Johnson's oeuvre is owed above all to a singular creative process. He inherited this practice from Color Field stain painting, pioneered by Helen Frankenthaler and continued by Morris Louis, emblematic artists of American Abstract Expressionism. The artist first spreads his blank canvases out on the floor of his studio, paints a few motifs, and lets highly diluted liquid paint spill out in various shades; then, he lets the laws of chemistry and physics do their work. Thus begins Johnson's work of improvisation, which centers on immediacy and letting go.
- Charles Barachon
____
PRE-ORDER: Shipping end of September 2021
- FREE SHIPPING ON ORDERS OF 2 / 3 PRINTS FROM THE RELEASE
USE CODE 'AARONJOHNSON' AT CHECKOUT
OFFER AVAILABLE FOR LIMITED TIME ONLY
- MAXIMUM 1 PRINT OF THE SAME EDITION PER PRE-ORDER
PURCHASE POSSIBLE OF OTHER PRINTS FROM THE RELEASE
Print may vary slightly from image.
Select applicable taxes option | shipping costs calculated at checkout.
*Taxes - European Union
Price including VAT - EU customers are subject to Belgian VAT.
*Non European Union
For customers outside the EU, local taxes and duty fees may apply and are at your expense. Please get in touch with your local customs office for more information.
Shipping, customs duties and taxes are at the buyer's expense. Shipping flat, including cardboard portfolio.
For additional information please get in touch via e-mail to theshop@alminrech.com