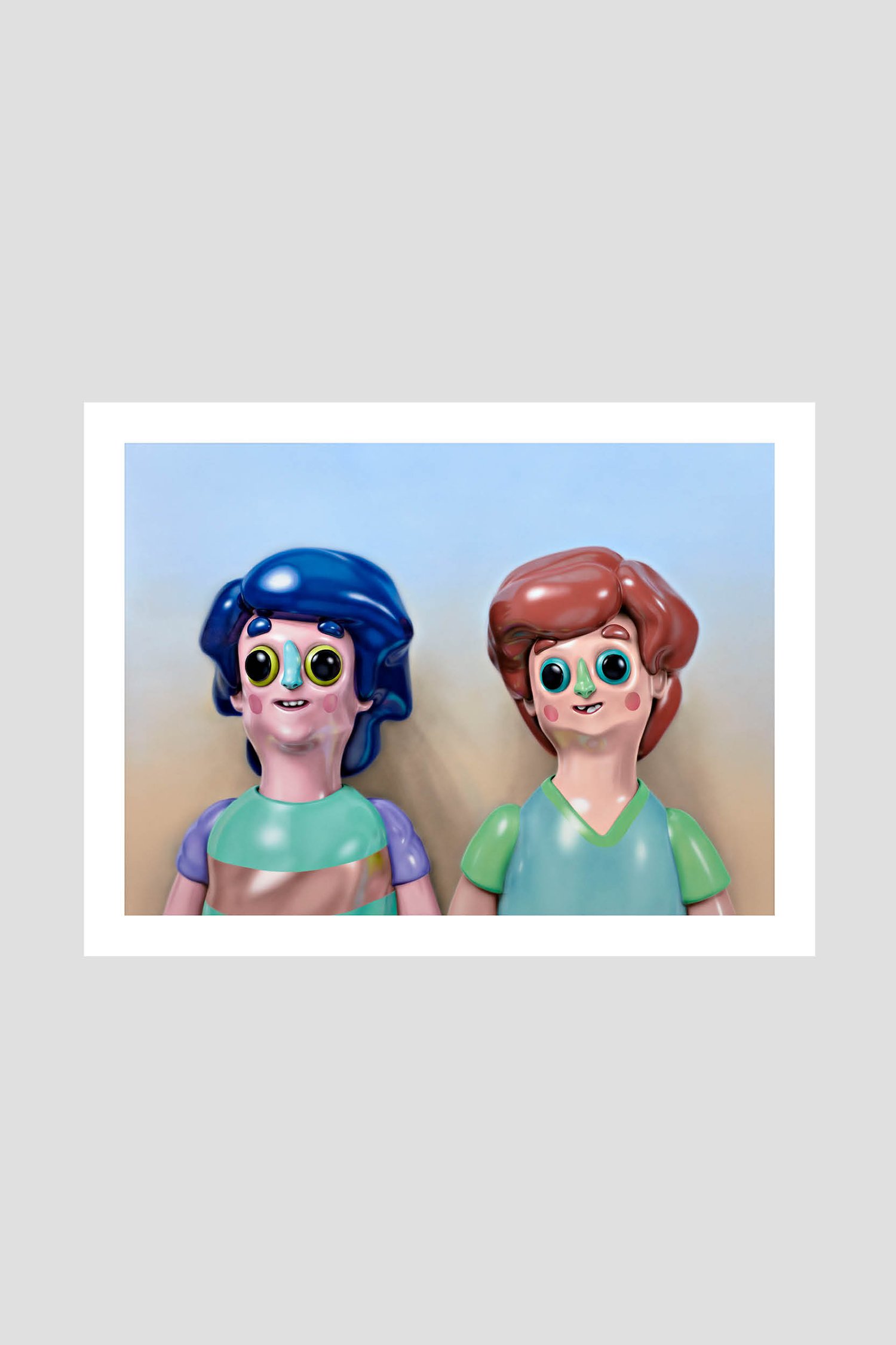 César Piette - Double Portrait
César Piette
Double Portrait
2022
Archival pigment print on cotton paper
90 x 75 cm
35 1/2 x 29 1/2 in
Edition of 75 + 20 APs
Signed and numbered on the front
Almine Rech Editions is pleased to present César Piette's new limited edition prints, released on the occasion of the artist's pop-up in Paris from May 6 to May 8, 2022.
French artist César Piette's use of traditional techniques like monochromatic layers, perspective, light, composition, and pronounced shading connects him to the history of figurative painting. Using an airbrush, his "hyperplastic" images include three-dimensional effects that intersect with design, photography, and advertising. His subjects remain resolutely classical: a nude, a bird, a vanitas.
Although he comes out of the practice of illustration and the world of comics and video games, Piette rejects the influence of digital imagery and sees his work as a construction game. He emphasizes the artificial object and the playful nature of toys and combines them with art historical references, thus brandishing them with a more serious take.
____
Estimated delivery date / August 2022
Maximum 1 print per pre-order
Multiple orders will automatically be refunded
Print may vary slightly from image
Buyer agrees to sign full Terms & Conditions
- Terms & Conditions
The buyer agrees that he will not sell, convey, transfer, lease, lend or otherwise dispose of the artwork, during a period of 24 months starting from the date of purchase.
Check our full T&C page or contact theshop@alminerech.com for additional information.
Select applicable taxes option | shipping costs calculated at checkout.
*Taxes - European Union
Price including VAT - EU customers are subject to Belgian VAT.
*Non European Union
For customers outside the EU, local taxes and duty fees may apply and are at your expense. Please get in touch with your local customs office for more information.
Shipping, customs duties and taxes are at the buyer's expense. From the time the artwork leaves the premises of the gallery, the buyer is liable for insurance of the work and third-party individuals. Shipping flat, including cardboard portfolio.