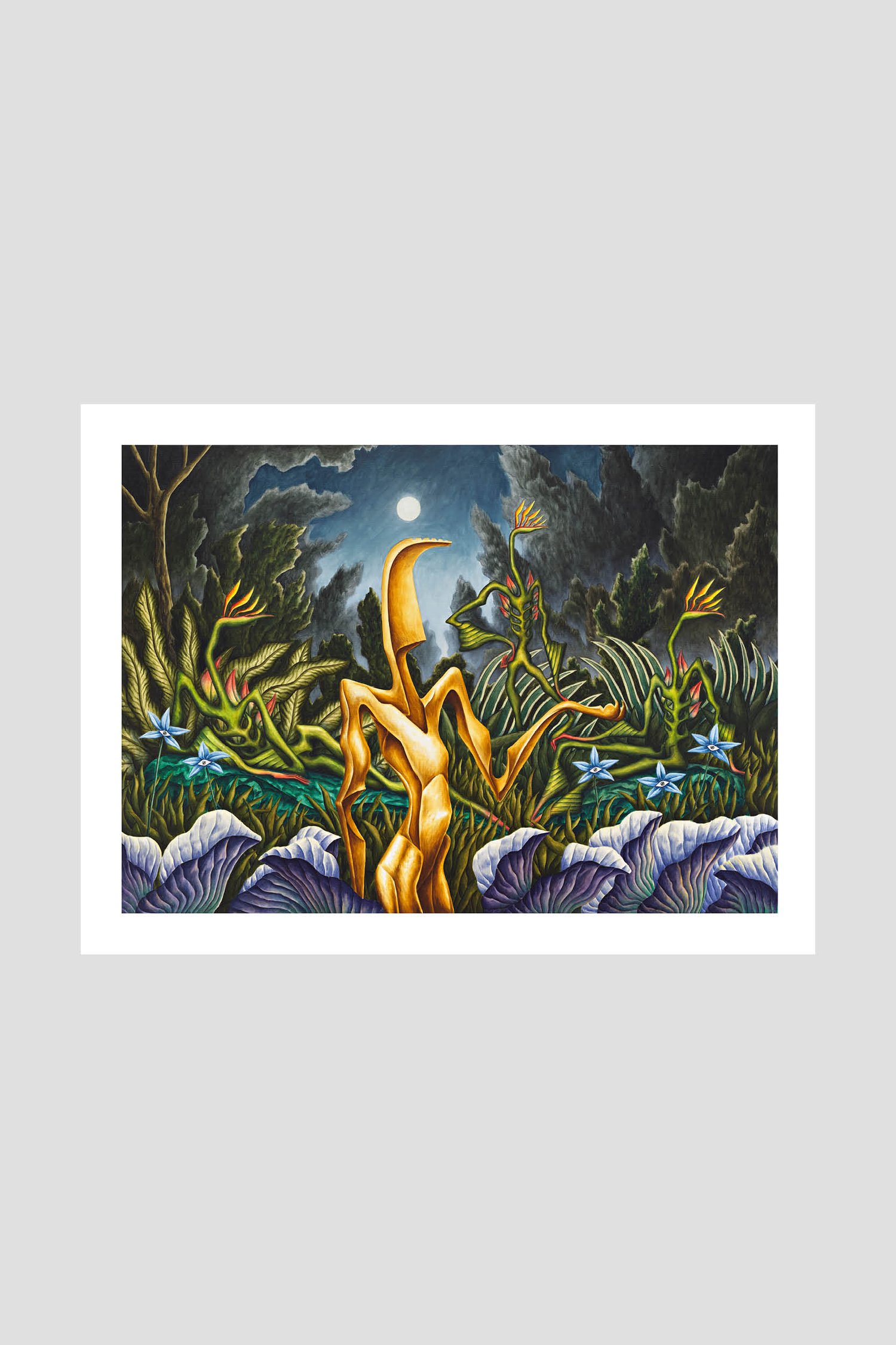 Pre-Order / Alejandro Cardenas - Calypso of Ogygia
Alejandro Cardenas
Calypso of Ogygia
2022
Archival pigment print on cotton paper
67 x 90 cm
26 1/2 x 35 1/2 in
Edition of 75 + 20 APs
Signed and numbered on the front
Almine Rech Editions is pleased to present 'Calypso of Ogygia', the first limited edition collaboration with artist Alejandro Cardenas released in conjunction with Alejandro Cardenas third solo exhibition 'CALYPSO', held at Almine Rech Paris, from March 19 to April 23, 2022.
The paintings and sculptures realized by Alejandro Cardenas (b. 1977, Santiago, Chile) provide a vision of a post-human world wherein the relationship between human forms and the environment is one of unity and coexistence. Guided by his own imagination and inspired by a wide variety of influences ranging from Surrealism to Sci-Fi to magical realism, Cardenas immerses himself in the creation of surreal, post-human scenes of polished, gridded interiors populated by eerie, angular figures. Cardenas' unique approach to figuration places his signature humanoids—narrow, wire-frame silhouettes wrapped in colorful patterns of zigzagging lines—calmly reclining, sitting, or standing within minimalist architectural environments. Unlike us, these faceless humanoids appear to lack all sensory organs, yet they are not deprived of their sensorial abilities. Instead, they convey emotion through body language, resulting in a wide variety of suggested emotional expression.
____
Estimated delivery date / August 2022
Maximum 1 print per pre-order
Multiple orders will automatically be refunded
Print may vary slightly from image
Buyer agrees to sign full Terms & Conditions
- Terms & Conditions
The buyer agrees that he will not sell, convey, transfer, lease, lend or otherwise dispose of the artwork, during a period of 24 months starting from the date of purchase.
Check our full T&C page or contact theshop@alminerech.com for additional information.
Select applicable taxes option | shipping costs calculated at checkout.
*Taxes - European Union
Price including VAT - EU customers are subject to Belgian VAT.
*Non European Union
For customers outside the EU, local taxes and duty fees may apply and are at your expense. Please get in touch with your local customs office for more information.
Shipping, customs duties and taxes are at the buyer's expense. From the time the artwork leaves the premises of the gallery, the buyer is liable for insurance of the work and third-party individuals. Shipping flat, including cardboard portfolio.