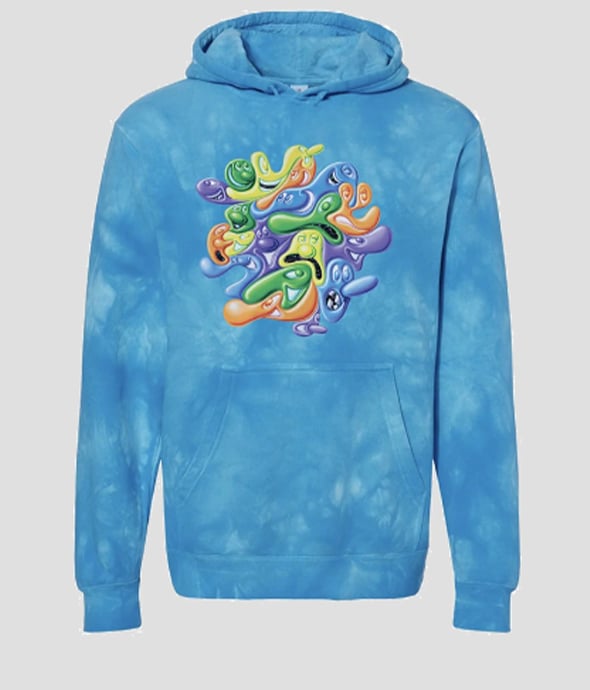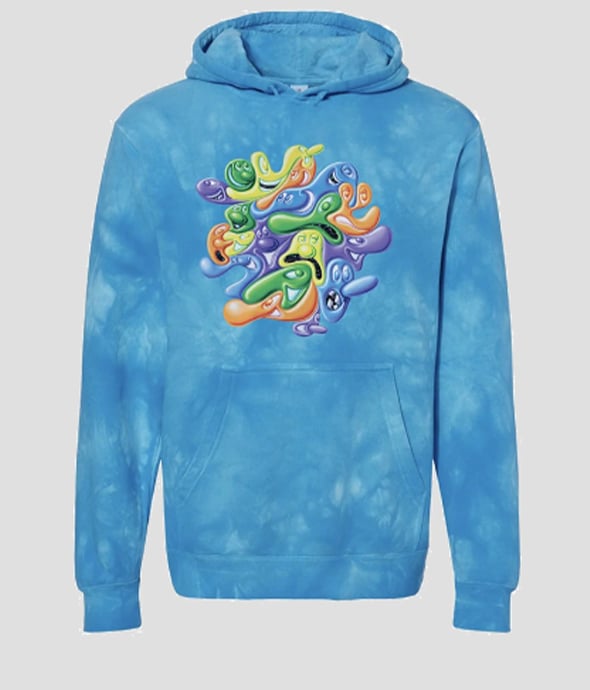 Kenny Scharf - Blobzmos Tie-Dye Hoodie
by Kenny Scharf
€95.00 / Sold Out
Kenny Scharf
Blobzmos Tie-Dye Hoodie
2020
Blue, 100 % cotton
Available in sizes S, M, L or XL
DNA Merch
Kenny Scharf (b. 1958, United States) is a renowned artist affiliated with the 1980's East Village Art movement in New York. Scharf developed a distinct and uniquely personal artistic style in paintings as well as sculpture, alongside his mentor Andy Warhol, and contemporaries like Jean-Michel Basquiat and Keith Haring with whom he pioneered contemporary street art. References to popular culture reoccur throughout his works, such as appropriated cartoon characters from the Flintstones and Jetsons, as well as imagined anthropomorphic creatures. Through ecstatic compositions and a dazzling color palette, Scharf presents an immersive viewing experience that is both intimate and fresh. Scharf's multifaceted practice—spanning painting, sculpture, installation work, murals, performance and fashion—reflects his dedication to the creation of dynamic forms of art that deconstruct existing artistic hierarchies, echoing the philosophy of Pop artists. Yet Scharf's artistic significance expands beyond the art historical terrain of Pop Art; the artist instead coined the term "Pop Surrealist" to describe his one-of-a-kind practice. His inclusion in the 1985 Whitney Biennial marked the start of his international phenomenon, a reputation that continues to thrive today.
____
Regular fit - do not iron on print, cold machine wash
Item may vary slightly from image
Contact the[email protected] or check our T&C for additional information.
Follow @alminerecheditions and tag us on Instagram to receive a gift on your next purchase!