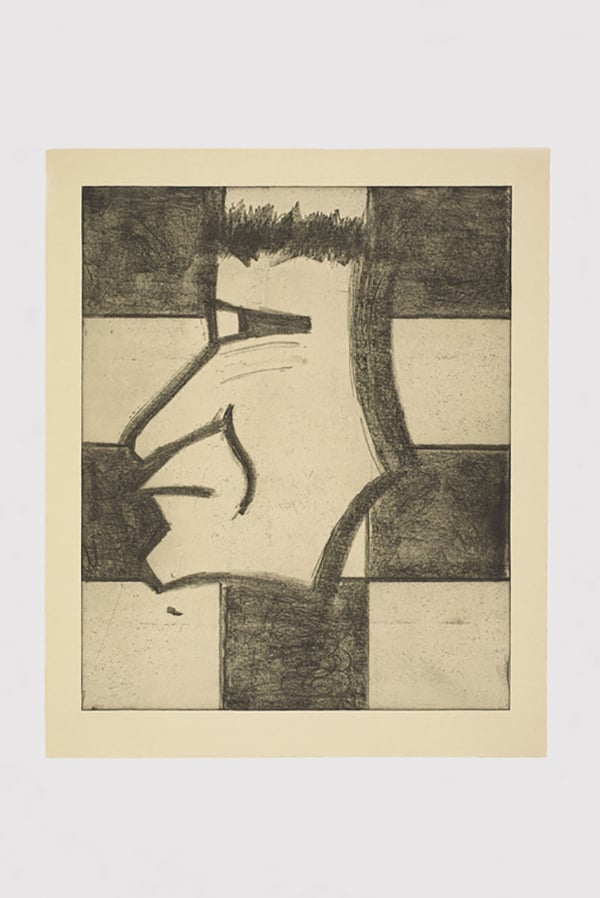 €
1,000.00 -
€
1,200.00
Price on Demand
Joe Bradley - Untitled
Joe Bradley
Untitled
2018
Soft ground etching on 175 gsm Zerkall buff laid paper
64.5 x 53.2 cm
25.4 x 20.9 inches
Signed, numbered and dated by the artist on the reverse
Edition of 100
____
Though many of Bradley's paintings look abstract, the artist says he often works from some figurative source material, which gets obscured as he adds layer upon layer of paint onto his unprimed canvases. His charcoal-on-paper drawings of faces and cars, meanwhile, are both minimalist and primitive. Sometimes his titles, such as 'All Duck' or 'Mother and Child' seem to allude to obscured images, while others hint at both low and highbrow influences, such as the 1970s TV show The Love Boat, and T S Eliot's 1940 poem 'East Coker'.
Joe Bradley's protean oeuvre is built on a diverse, curated visual language. Though always squarely in the realm of painting, Bradley's series vary wildly in formal and aesthetic qualities. From the "modular" shaped canvases of pristine color fields tapped from the minimal canon, to rudimentary line drawings on found cardboard and post-its, to saturated, unprimed canvases, unceremoniously stitched together, Bradley's evocations of exalted and disposable culture lend equivalency to the discrete elements as they champion the materials of their making. Joe Bradley was born in 1975 in Kittery, Maine. He received his B.F.A. in 1999 from Rhode Island School of Design. Bradley's work has been the subject of numerous solo exhibitions, including P.S.1 Contemporary Art Center, Long Island City (2006); Le Consortium, France (2014); BOZAR, Brussels (2016–17); and Albright-Knox Art Gallery, Buffalo (2017) which travelled to Rose Art Museum at Brandeis University, Massachusetts (2017-18). Group exhibitions include "Silicone Valley," P.S.1 Contemporary Art Center, Long Island City (2007); "ab-strac-tion-al," Museum 52, New York (2009); "New York Minute", Museo d'Arte Contemporanea di Roma, Italy (2009); "EXPO 1: NEW YORK," MoMA PS1, Long Island City (2013); "The Inevitable Figuration", Centro per l'arte contemporanea Luigi Pecci, Italy (2013); "The Forever Now: Contemporary Paintings in an Atemporal World," Museum of Modern Art, New York (2014); "New York Painting," Kunstmuseum Bonn, Germany (2015); "Progressive Praxis," de la Cruz Collection Contemporary Art Space, Miami (2016).
____
Select applicable taxes option | shipping costs calculated at checkout.
*Taxes - European Union & UK
Price including VAT - EU & UK customers are subject to Belgian VAT.
*Non European Union
For customers outside the EU, local taxes and duty fees may apply and are at your expense. Please get in touch with your local customs office for more information.
Shipping, customs duties and taxes are at the buyer's expense. From the time the artwork leaves the premises of the gallery, the buyer is liable for insurance of the work and third-party individuals. Shipping flat, including cardboard portfolio.
Contact theshop@alminerech.com or check our T&C for additional information.